THE PROJECT
Mr Vinati bought the SILVERCRAFT aeronautical factory in 1990 and resumed producing the helicopter SH4 SIlvercraft a light helicopter 3 places and 2 blades with 1900 lb of Maximum Take Off Weight (type certificate by FAA -USA and RAI-ITA) : F-Helix is the natural evolution of Silvercraft SH4.
We signed a research agreement with the Penn State Vertical Lift Research Center of Excellence (www.vlrcoe.psu.edu) to validate the F-Helix concept and optimize the performance.
We addres ourselves to those who already know helicopters.
We do not expect, therefore, that you will be surpised to learn that a helicopter land in autorotation, that it is unsurpassed for an infinity of tasks, and so on.
You already know these things better than we do.
But, you also know full well the problems for a helicopter:
high initial cost;
poor controllability;
excessive maintenance.
IEROM SA, Vinati s.r.l. and SSR Swiss Safety Research SA, came up with the F-Helix concept with 6 main objectives in mind:
to create eVTOL that can autorotate
to abate the initial cost by simplifying assembly and number of parts
to improve the flight characteristics
to reduce maintenance cost
to reduce noise using blue edge like blades
to create a green flight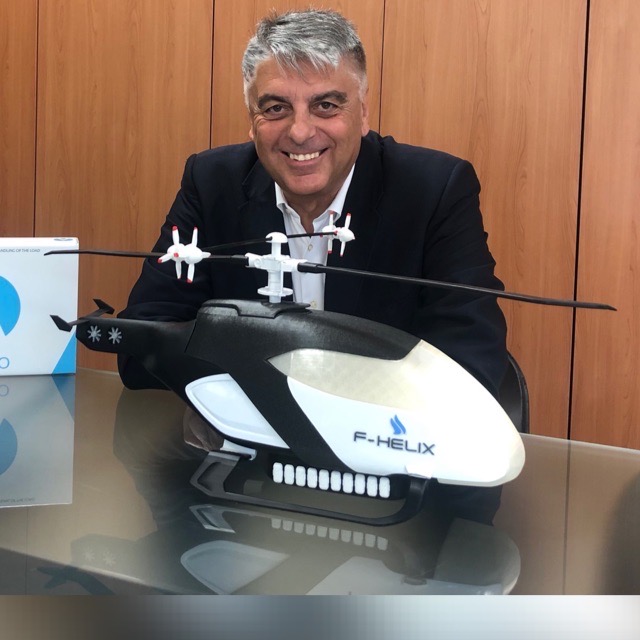 THE RESULT?
F-Helix a 1-6 seat two-bladed Fly-by-Wire electric helicopter with a maximum take-off weight of 1900 lbs with far less fewer moving parts.
POWER MAST WITH 2 SETS OF CO-AXIAL COUNTER-ROTATING PROPELLERS (4 eFANS)
Mounting the electric propellers directly on the main rotor leads to no torque exchange between main rotor and fuselage.
This allows us to save around 1000 lb that are allocated to the battery pack or to the payload.​
This means more load capacity and longer flight duration in the near future.
The Power mast eliminates the need for:
- Fuel Engine - Main rotor - Tail rotor - Tank - Fuel - Free wheel - Tail beam - Oil pump - Oil tank - Lubrication system - Engine shroud .......
THE 2 YAW eFANS
No torque exchanged between the main rotor and fuselage. Two small electric ducted fans are used to provide control and directional stability around the yaw axis.
* Special thanks to Ing. Antonio Venier the guru of Italian aeronautics, who inspired me to pursue this dream.
Our Patents:
Patent N.102017000108804.
International Patent Application N. PCT/EP2018/071196.
Italian Patent Application N. 102019000006604.
Italian Patent Application N. 102017000121411.